Costa Rica
Caribbean Coast Tour
Experience the natural wonders of Costa Rica in the canals of the estuaries that surround Tortuguero, swim in the clear blue waters of the Caribbean.
Caribbean Coast Tour
At a Glance
10 days
includes private van and driver
all accommodations,
six excursions and activities,
welcome drinks and refreshments,
all breakfasts and four lunches.
Airfare to Coast Rica SJO airport, dinners, some lunches, and tips for guides, maids and our driver are not included.
Day 1 San Jose/Alajuela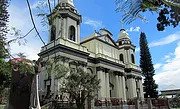 Upon arrival in San Jose your trip leader and experienced driver will be waiting to accompany you from the Juan Santamaria International Airport (SJO) to the hotel for our welcome reception. Relax with a welcome drink and refreshments and get acquainted with your fellow travelers. Kevin and Andi will be available to answer any questions you may have.
Feel free to spend the rest of the day exploring the historic city of Alajuela, or catching up on some rest.
*Refreshments
Day 2 Alajuela to Tortuguero​
We leave for La Pavona a small docking town for the boat to Tortuguero. Along the way we will stop for a traditional Costa Rican breakfast.
At La Pavona we will board an open-air boat that will take us for the hour-long boat ride to the quaint town of Tortuguero.
After we settle in to our lagoon side hotel, you are free to explore the shops and restaurants that line the main walking-only street of the town. Or, join in a game of soccer (futbol) with some local kids at the centrally located soccer pitch.
The narrow peninsula of Tortuguero is bordered on one side by the Caribbean Sea and on the other by the lagoon.  It's a peaceful small town with no motorized traffic and a short walk to see the sun rise over the Caribbean or sit on your deck for the sunset over the lagoon.
*B, L
Day 3  Tortuguero
Wake up early for the sunrise, or sleep in and have a delicious breakfast on the deck. Then take your choice of tours offered. 
*B
Today's adventures include your choice of: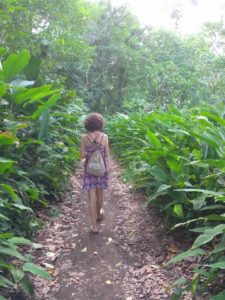 Rain Forest Guided Hike
Tortuguero National Park is Costa Rica's most popular park for ecotourism. You will explore this natural beauty with a private, professional guide. Your guide, Rafael, has been living and working in Tortuguero since 1984, his expertise and enthusiasm for the natural wonders of the park will enchant you, as he points out flora and fauna with his spotting scope.
Cacao Tour
Learn about the history, culture and science of chocolate. From the ancient Mayan kings to conquistadors and modern cacao production, you will experience a hands-on, interactive introduction explanation. Your guide will take you through the harvesting, roasting, husking, grinding, and finally tasting of this luxurious treat. Drink cacao in the different ways it has been enjoyed from the ancient Mayans, to the sweet drink we know today.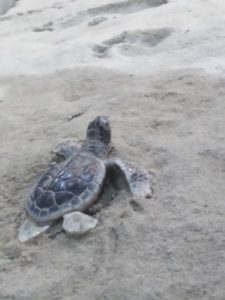 Nesting Site of the Sea Turtles
[Seasonal]: One of the most amazing natural spectacles that happens in Tortuguero is the arrival of the Sea Turtles. The beaches of Tortuguero are a protected haven for these majestic creatures. The Green Sea Turtle, Giant Leatherback, Hawksbill, and Loggerhead all lay their eggs here (February - July), and later (April - September) hundreds of thousands of small sea turtles leave their nests to go into the ocean and continue the cycle.
Day 4 Tortuguero
Today's excursion will be an unforgettable canoe ride through the natural canal's and estuaries that surround Tortuguero.
The sound of nothing but the oars gently lapping the waters and an occasional bird song or howler monkey is an experience you will cherish for a a lifetime. 
Afterward spend some time shopping the many boutiques with handmade gifts and jewelry, hike the beautiful beaches, or sip fresh fruit smoothies on the floating deck of the hotel.
*B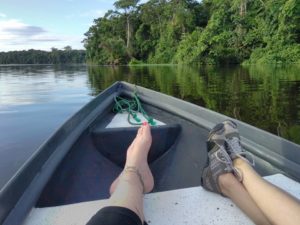 Canoe Tour
An early morning canoe ride through the natural canals and estuaries that surround Tortuguero will find you welcoming the waking of the rain forest. Your guide will paddle you silently through the vast jungle where you will see Howler, spider, and capuchin monkeys. Many species of birds will greet you with song, and if you're lucky you may even see a fresh-water otter or a looming caiman, You will wonder at the dense symbiotic plants that cling to the trees as each one creates its own ecosystem.
Day 5
 

Tortuguero to Cahuita

 

This morning we will be on board the nine a.m. boat back to La Pavona, where a private bus and driver will be waiting to take us to the sleepy town of Cahuita. We will stay in private cabinas located just steps from the entry of the National Park

*B, L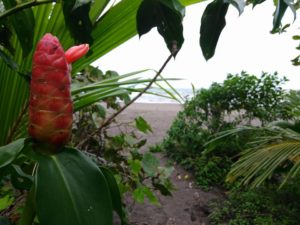 Cahuita
A sleepy little coastal village nestled along the entrance to one of Costa Rica's most famous National parks and teaming with Capuchin monkeys, Howler monkeys, sloths, and many species of birds.
Get ready for an exciting day of adventure. Whether you crave thrills of the aquatic, equine or historical nature, today has something for everyone. 
* B
Today's adventures include your choice of: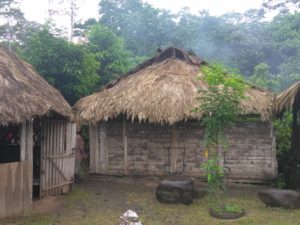 BriBri Indingenous Village Tour
The Bribri Indigenous Tour offers a cultural, anthropological and natural immersion in the Watsi Bribri Community in the foothills of the Talamanca Mountains. You will visit a medicinal plants garden to learn about the indigenous natural treatments and healing powers of the plants, trees, roots, leafs, barks, etc. You will be hosted by the medicine man or medicine lady. You will meet a traditional Bribri family to learn about their way of life, their heritage and resources for farming, cooking, healing, building and hunting, using organic materials found in the surrounding forest. A typical Bribri lunch served in a banana leaf and shared with the family will complete this indigenous experience.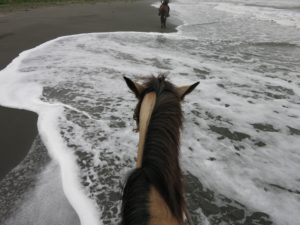 Horseback Riding Tour
You will be guided by horseback through the jungle and along the beach, where you will have the opportunity to see tropical birds and wildlife. Along the black-sand beach of Playa Negra, you'll gaze out over the crystal clear aquamarine waters of the Caribbean sea, surrounded by miles of protected reefs. The black beach sand is volcanic, a constant reminder of the geological history of this pristine area. You will cross over the mouth of Tuba Creek as it flows out to meet the ocean. From the beach you'll amble into a tropical rainforest filled with native wildlife such as Toucans, Sloths, Iguanas, and more. During your ride you will be following along the fringe of a protected national park, having the opportunity to see nature in its undisturbed, natural setting.

Caribbean Snorkeling Tour
Cahuita National Park has one of the most developed and important coral reefs of Costa Rica. In its crystalline waters you can find a over 123 varieties of exotic species like barracudas, stingrays, blue parrotfish, and so much more This tour will provide you the best adventure and nature lover experience. All necessary equipment is included
Day 7  Cahuita to Puerto Viejo
After a leisurely breakfast our private driver will take us to the Jaguar Animal Rescue Sanctuary. Where dedicated, knowledgeable volunteers will take you on a tour of the sanctuary and teach about the rehabilitation and return of each animal to its natural habitat.
Afterward you will be treated to lunch and check in to the fabulous Casa Verde hotel with swimming pool and poolside massage.
*B, L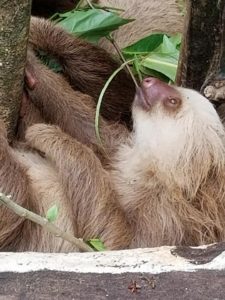 Jaguar Rescue Sanctuary
Don't let the name fool you, this rescue center is home to many wildlife animal rescues of Costa Rica. What makes the Jaguar Rescue Sanctuary unique is its commitment to rehabilitate and return the animals to the wild. To this end, the sanctuary is not run like a zoo. You will be guided through the sanctuary by a dedicated, knowledgeable volunteer who is committed to respecting the wild nature of each injured animal. Between 2008 and 2015, the JRS successfully reintroduced 1,200 animals back into the wild.
Today is a day to relax by the pool, read a good book on the beach, do some last minute shopping, perhaps get a massage. Or, continue to fuel the adrenaline junky within by taking surf lessons or partaking of the nightlife of Puerto Viejo.
Get into the true Kendi spirit and take time to relax, refresh and revive.
*B
Day 9
 

Puerto Viejo to Alajuela

Sit back, relax, exchange photos and contact information with strangers who have become friends, from the comfort of our bus on the drive back to Alajuela.

We will stop for lunch before returning to Alajuela.

We will be back in plenty of time for you to explore the city or take in a visit the museum or central park before we gather for a farewell drink by the pool.

*B, L
Breakfast will be served depending on your departure time and a free shuttle will carry you from the hotel to the Juan Santamaría International  (SJO) airport.
*B
Caribbean Coast Tour
At a Glance
10 days
includes private van and driver
all accommodations,
six excursions and activities,
welcome drinks and refreshments,
all breakfasts and four lunches.
Airfare to Coast Rica SJO airport, dinners, some lunches, and tips for guides, maids and our driver are not included.