You can Eat Cheaper On The Road Than At Home
Food is another big expense on the road, but there are ways to cut way back on spending in this area. The best advice is to look for a crowd of locals and eat there. The locals know where to get the best food for the best price. Next time you are in a restaurant in a tourist area, look around and count the number of local families there, usually none. They can't afford the prices and the food is usually altered from traditional flavors to please a more western palate.
Eat where the locals eat–best food, best pricesEat where the locals eat–best food, best prices
The street vendors are also a great bargain; you may want to wait a few weeks for this however, until your stomach has adjusted to foreign spices.
Sharing meals can also be a huge budget booster. In the United States, we are brought up on super-sized meals, and many times we leave American restaurants with our bellies full-to-bursting. Buy one meal and share it. Nine times out of ten you will both be satisfied, and on the off chance you are not – it's a good excuse to split dessert and still save money.
Or, head to the local produce market for some locally grown fruits. Local markets are a great way to save money on food, and eat healthy as well. You will be surprised how little you need regarding utensils and equipment to make picnic-style meals.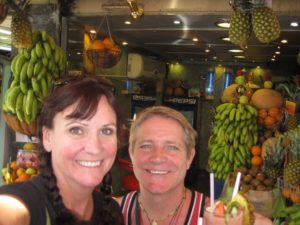 While in Jordan during the Islamic holiday Ramadan, we were invited to an iftar dinner, this is the meal that breaks the fasting at sunset. We readily accepted and I was asked if I could bring a dish from my country of origin for a potluck, enough to feed fifteen. Of course, I agreed, and armed with only a quart sized tin cup, a small heating coil (to boil water), and a Cutco steak knife, I set out for the local market. I met this challenge by making potato salad with locally grown potatoes, onions, home canned pickles and what looked like mayonnaise but was slightly sweeter. I boiled the potatoes one at a time and made a dish that was the hit of the meal.